Living a Legacy – Lee & Ann Marsh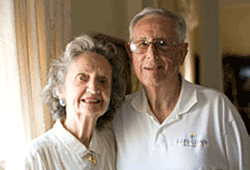 Helen Keller once wrote, "When we do the best that we can, we never know what miracle is wrought in our life, or in the life of another." That quote holds true for Lee ('50) and Ann ('51) Marsh. These Lipscomb graduates kept their ties with the university and passed along the legacy of seeking a Christian education to their children and grandchildren. Their generosity touched the lives of many Lipscomb students and helped develop Lipscomb programs which thrive today on campus.

Lee and Ann met at Stunt Night at Lipscomb when both participated in this talent show. When the contestants finished with their act, they were to leave the stage and sit in the front row with other contestants. Ann sat beside Lee when she finished singing "All of Me." He later walked her back to the dorm leaving her date behind at the show. They have been together ever since. For more than 60 years of marriage, they kept close ties to the school where they met.

Each of their children (and their spouses) graduated from Lipscomb University. Three grandchildren attended the university, and one grandchild attended Lipscomb Academy. Both Lee and Ann stayed active on campus serving on boards and committees, as well as attending social and sporting events.

The Marshes also supported Lipscomb University financially. They donated to program funds and scholarships regularly and made a bequest through their will. They gave to campaigns knowing that they were contributing to a university committed to making a difference in the lives of students and committed to making a difference in lives around the world.

Ann was once quoted as saying "I hope the legacy continues, Lee spends all of his spare time at Lipscomb, and I enjoy all of my connections there." Ann Marsh was the niece of Dr. and Mrs. Sam McFarland ('27 and '26 respectively), who are the namesakes for the McFarland Hall of Science.

Lee Marsh, 2003 Alumnus of the Year, lived out his faith through service to his church, his country, his family and his alma mater. "I served in the Navy before studying at Lipscomb. I trained as an aviation radioman. When we lived in Dickson, Tenn., we stayed very active with the youth group. Seventy-five to eighty teens would come to our house for volleyball and snacks. It has always been important to us to stay involved."

Their involvement took on many forms such as donating memorabilia to Lipscomb and donating monetarily to support the programs that impacted their lives and have continued to impact the lives of their children and grandchildren.