Smith Family Endows Erin Arnold Smith Scholarship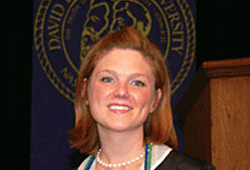 The Smith family has established an endowed scholarship in memory of Erin Arnold Smith which provides support for students who plan to enroll in law school upon graduation from Lipscomb and who are enrolled full-time as a major in a field of study that would lead to entrance into law school.

Along with her many friends and family members, the Lipscomb community mourned the loss of Erin Arnold Smith ('05) who passed away July 16, 2007, at the age of 24. Erin's husband, Jason Smith ('04), to whom she was married on December 17, 2005, his parents, Kenneth and Suzanne, and sister, Rachel Smith, have established this scholarship in her memory.

"Erin and I met while we were at Lipscomb, in a geography class of all places. We both really enjoyed our time at Lipscomb and my memories there with Erin are priceless. I can think of nothing more fitting than to memorialize Erin through a scholarship in her honor at Lipscomb," said Jason Smith. "Erin was funny and smart and beautiful. She was constantly laughing and she smiled almost all the time. Erin really enjoyed life, every moment of it, and she made others around her do the same. "

Erin grew up in the Nashville area. She graduated from David Lipscomb High School in 2001 and graduated as salutatorian of her class from Lipscomb University four years later. She was a member of the Delta Sigma Club, the Phi Alpha Theta National History Society, and was inducted into the Alpha Chi National Scholastic Honor Society. Erin was preparing to enroll in the University of Denver School of Law. Erin's father and mother, Brad and Lynne Arnold of Franklin, Tenn., and sister, Amy Arnold Rusley, are Lipscomb graduates as well.

Additional contributions may be made to this fund by all interested individuals or organizations. To contribute to the scholarship fund, send a gift by mail to the development office or donate online using our secure form. Funds should be earmarked for the Erin Arnold Smith Scholarship.