Alexander Endows Scholarship for Family and Consumer Science Majors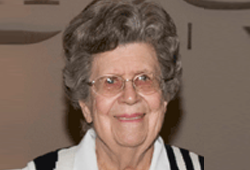 A scholarship has been created to assist students in the Lipscomb's Department of Family and Consumer Sciences.

Lipscomb University alumna Mary Neal Alexander endowed this scholarship through her estate in memory of her parents, Bob and Bessie Alexander. The scholarship supports full-time students who are enrolled in a Family and Consumer Sciences-related major and demonstrate a financial need.

Alexander graduated from David Lipscomb College in 1938 with a home economics degree. She then attended Middle Tennessee State University where she also studied home economics. When most of her classmates were interviewing for agricultural extension agent positions, her teacher scolded her for not interviewing to gain experience in job-seeking skills. She agreed to interview and was hired. She spent her entire career with the UT Agricultural Extension Service teaching people, mostly in rural Middle Tennessee, to sew, cook and perform other household duties. She finished her career as a supervisor in the Ag Extension service in the upper Cumberland area. She retired in 1972.

"During my years as an extension home economist, I attempted to bring tested and sound information in the area of food, clothing, shelter and management to the homemakers and their families. We used demonstrations, home visits, newsletters, weekly radio programs, newspapers, workshops, exhibits, leader training and tours to share our message of 'better home living.' In the early 40's, about 90% of the rural people in Tennessee did not have electricity on their property. Most of the families never dreamed of the many changes in their lifestyle which lay ahead. Electric power marched into rural Tennessee pole by pole. Access to this power was like adding an extra 'workhorse' on the farm and in the home. Houses and barns had to be remodeled to meet the needs for indoor plumbing and new electric appliances," said Alexander.

"Two projects from the early 40's which I think worthy of note were the better lighting and the mattress program. Many lovely kerosene lamps were saved by converting them into electric lamps. The old Aladdin lamp, with the use of recommended bulbs and defusing bowls plus a white shade, converted into a good electric reading lamp. The mattress program was hard, but one of the most rewarding programs with which I worked. Boxes of mattress needles (straight and curved) along with pages of instruction helped convert a surplus of cotton, cotton blue-and-white-striped bed ticking and spools and spools of coarse linen thread into mattresses for the people in rural areas. Washington announced the mattress program for selected counties throughout the country. The extension home economist was responsible for getting the program completed," added Alexander.

"It is exciting to see individuals reach a point in their personal and professional lives when they have the means to encourage the growth of professionals like themselves in this way. Ms. Alexander has had a long and gratifying career with the Agricultural Extension Service. Over the course of her life, she has helped innumerable people improve their lives and the lives of their children and families. It is unusual to see such values of service, thrift, and conservation in contemporary society, but that is exactly what has motivated and enabled her to provide this benefit to generations that will follow her," said John Conger, professor of family and consumer sciences.

Friends of Ms. Alexander are encouraged to contribute to this fund in her memory. To contribute, send a gift by mail to the development office or donate online using our secure form. Funds should be earmarked for the B. and B. Alexander Endowed Scholarship Fund.