Stacey Smith: Journey Out of Darkness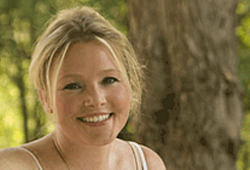 There is a darkness that surrounds domestic violence. The darkness masks the secrets and hidden treacheries that few can truly understand. Stacey Smith, Lipscomb University senior, has traveled through the darkness and understands the fear and pain involved in living through abuse. Smith has traveled from her Tracy City, Tenn., hometown and challenging beginnings as a coal miner's daughter through the darkness of domestic violence and into the light of hope as she earns her college degree and plans to attend law school in the future.

"Stacey's journey is an inspirational story about courage, determination and perseverance," states Dwight Tays, professor of political science, who became one of the first people on campus to know her story. "It took great courage to break free from the physical and emotional bonds of domestic abuse and tremendous determination to forge a new life."

Tays learned the details about Smith's life when she applied for and received the Angie Greene Memorial Scholarship. "I wrote a paper as part of the application process for the scholarship," states Smith. "I decided that I wouldn't know anybody that read it so I could be open about my past. Dr. Tays was on the scholarship committee and called me in to talk to the others involved. It was really hard to sit with people and talk about my life, but I realized I can't make changes unless I am out there. I had to take a chance."

Taking a chance at starting over meant risking her life to get away from her abusive husband. "People think you can just walk away from domestic violence. It's not that easy. You are in danger when you walk away. He thought I was his property, so he felt like I betrayed him when I tried to leave."

Headlines reveal the dangers women face when they try to escape. Domestic violence is the most common cause of injury to women ages 15 to 44 years old. According to the American Psychiatric Association, nearly 5.3 million cases of domestic violence occur each year among U.S. women ages 18 and older resulting in two million injuries and 1,300 deaths. Crime statistics tell us that 30-33% of all female murder victims were killed by their husbands or boyfriends.

Smith knows how difficult leaving can be when you have been economically stripped of your resources, socially isolated and left numb and weary from the abuse. "My husband beat me and told me he could kill me anytime he wanted to. I knew it was true. When we got married, he moved us to El Paso. I didn't have any way out. I had no money for help. He searched my pockets for receipts to make sure I didn't have any money I was depositing or spending. He checked the car mileage to make sure I wasn't going anywhere. The psychological damage numbs you. You live in terror. You stop knowing anything about yourself. You don't know who you are, what you think or what you feel."

Smith found the courage to get away after seven years. To get the necessary resources, she cleaned houses that she could walk to. She only worked when her husband would not know she had been out of the house. She took her earnings and hid them safely with a neighbor who knew part of her story. She finally made it out of her house and ran to Houston, but it wasn't long before her husband found her.

"When he found me, he opened my car door and hit me. It broke my nose. He had a gun and dragged me into the woods. I went numb. I dissociated-just went to another place in my mind. The police came and got the gun away and got me into an ambulance. The officer walked up to the ambulance and told me they were letting him go. My husband told the officer I wouldn't press charges and the officer believed him. The female EMT hit the roof. She spoke up for me. She knew how badly I was hurt and made him arrest my husband. My husband only got three months, though, and was out again."

Pressing charges was just the beginning of the hard part of leaving. Smith had to find a lawyer she could afford and face the legal process without much support from anyone. "People don't understand. They look at you bruised and sore and assume you deserve it somehow. I felt ashamed," Smith said. "I had no way to support myself. I was too bruised to go on interviews. I got a job I could walk to. I just barely made it. It was hard to find a place to live because when someone would let me stay with them, he would find me and assault me. The people helping me would throw me out because it was hard for them."

Smith knew she needed an education to change her life. She needed a new family tradition. She came from a coal-mining family in Tracy, Tenn., born to a father who dropped out of school after third grade and a mother who never finished high school. When her parents divorced when Smith was in high school, her mother was left struggling to find a job that could support her four children.

Smith realized that education was the key to her hope for a better future. She graduated from Motlow State Community College before coming to Lipscomb where she will graduate with honors as a political science major with minors in criminal justice and management. Her time at Lipscomb has opened many doors for her.

"I had a wall around me when I came here," Smith states. "Then I was asked to speak at a university luncheon for supporters of Lipscomb. I was a closed book until I talked that day." Smith appreciates the sense of belonging she has received at the university and the generosity of people around her who help bring hope into her life.

"Because individuals have given financially in order that other people may be helped, Stacey's life has been enriched. She has been awarded a full-tuition scholarship and her expenses for the Lipscomb travel course to China were paid by a couple who wanted to bring a special blessing of encouragement to her," states Tays.

Charla Long, director of the Center for Law, Justice and Society at Lipscomb, traveled on the China trip with Smith. "I admire Stacey very much," Long states. "When she learned that a donor wanted to pay for her trip, she felt so undeserving. As she said, 'stuff like this doesn't happen to me.' I remember saying, 'Well, it just did' and watching the reality of the moment flood Stacey with emotions. She cried because she was so touched by the generosity of people who didn't even know her.

"Traveling with Stacey was thrilling. It was like taking a child to Disney World and watching the experience all over their face. She got it...she realized the magnitude of the places where we were traveling. From her political science and business training, she appreciated all of the places and people we visited."

Smith's courage and determination have brought her a long way on her journey. She remarried and has a daughter who will one day know the price Smith paid for the life she is building. She slowly finds healing as she holds on to hope and discovers safe places to trust and tell her story.

Domestic violence has no true fairytale endings, though. Smith still lives with the memories of abuse. "I still carry the fear and tension with me. I was tortured, manipulated, controlled. That becomes part of you. I wish it wasn't true, but I have to accept that it is. I was part of Lipscomb's program that went to the Tennessee Prison for Women. I took college classes with the women there. When I walked in, I knew I had more in common with the inmates than with my classmates. So many of the inmates were abused. They chose a different path."

Smith has chosen a path of hope and healing. She has walked through the darkness and now travels with hope and faith as her companions on her journey.