North Family Endows Scholarship for Lipscomb Students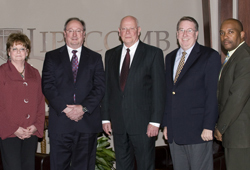 A scholarship has been created that will assist students seeking a Christian education at Lipscomb University. The Ira and Avon North Endowed Scholarship Fund will provide scholarship support to students with financial needs who enroll full time at Lipscomb.
The scholarship intends to perpetuate the influence of Ira and Avon North, who dedicated their lives to serving the Lord and leading others to him through their work. Before his death in 1984, Ira North established the Ira and Avon North Student Loan Fund to assist students with the difference in tuition cost of attending state-sponsored institutions of higher education and the cost of a Christian education. Steve North, Phillip North and Dolley North Rennie, the three surviving children of Ira and Avon North, recently visited the campus to finalize the plans to continue the North family legacy at Lipscomb.
After years of service at Lipscomb and throughout the Nashville community, Ira North was named Lipscomb's first Alumnus of the Year in 1980. Tennessee Gov. Lamar Alexander presented the award to North, who at the time served as the editor of the Gospel Advocate, minister of Madison Church of Christ, and was a leader in Nashville-area civic and community affairs. North began his ministry at the Madison church in October 1952 when the congregation numbered about 450. At the time of his death in 1984, the church had grown to over 5,000 members.
Ira North served for 22 years on the Lipscomb faculty as a professor of Bible and speech. He also served as the teacher of the televised Amazing Grace Bible Class, shown in more than 250 cities across the country. North edited the Gospel Advocate from 1977 to 1981. He hosted Know Your Bible, a Sunday afternoon quiz show introduced on Nashville television in 1954. He authored two books, You Can March for the Master and Balance: a Tried and Tested Formula for Church Growth.
"Our parents were inspired to start the loan fund when they heard the story of John North," said Steve North. "John was a relative who met two brothers being raised by a widowed mother. John started a loan fund for tuition for the two brothers, Charles R. and Grover Cleveland Brewer. Charles Brewer taught Bible to Ira North at Lipscomb. Millions of people have been inspired by what started as a small loan. When you do something you think is good and right, no matter how small it seems, you never can grasp the consequences."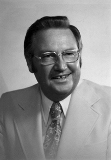 Ira North
"Dad had so many accomplishments throughout his career. He also took a strong stand on many controversial issues of his day. In the 1960's, the Madison church got a letter from the NAACP stating they were coming to our church and protesting on the steps one Sunday morning. Dad told the elders of the church that he wanted the NAACP members to be welcomed inside of the church instead of calling out the National Guard to block them as other churches in the nation had done. He took a stand that could have cost him his career in those days," said Phillip North.
"Mom was an anchor for our family," said Dolley North Rennie. "She was a strong presence in our lives. She made many sacrifices in life to keep us all grounded in reality. We inherited many things from her spirit. She taught us how to succeed and how to deal with problems when life is tough. She was tenacious. We took what she said and learned from it. We knew to never argue with her. I realized her strength when Daddy died. She had been married since she was 18 years old. The change was hard for her, but she never complained. She kept going and her inner strength really taught us all a lot about life."
"Both of our parents worked hard at breaking the cycle of racism. It took a lot of will power and determination to make sure they did not pass along to us or others the prejudices in society in that day," added Rennie.
In addition to establishing the endowed scholarship fund, the North family donated an audio collection of many of the sermons and television appearances of Ira North. "Thank you for entrusting us with this legacy that will benefit our students and the university as a whole. Another generation will now know about and be a part of this story," said President Randy Lowry.