Children honor memory of mother with endowed scholarship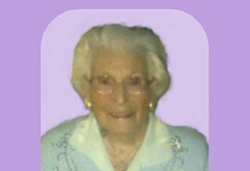 For 99 years, Grace Woodroof Akin devoted her life to rearing a family and serving others.
True to her name, she lived a life full of grace, according to her children, even when facing difficult circumstances. To honor her life and impact, Akin's children, Charles, Rebecca (Bookner) ('65), Bettye (Rodgers) and Patrick, recently endowed the Grace Woodroof Akin Memorial Scholarship. The scholarship will benefit undergraduate or graduate students who are studying to care for the aging population through majors such as aging services, counseling, ministry, music, nursing, pastoral care and psychology.
Akin was an example of quiet strength to those around her. Her husband died suddenly at age 51, leaving her to rear five children. Twice she fought cancer. And, through it all, she kept a positive attitude and held on to her faith.
"She read her Bible every night," said son Charles. "When everyone would leave, she would open her hymnal and sing. She would be very proud of this scholarship."
Akin's children said that this endowed scholarship "serves as a permanent tribute to honor and remember the special Christian woman that our mother was throughout the course of her life. It is fitting that even after her death, her life continues to bless others in their pursuit of a noble and worthy career of service to others."
She spent her quiet time working in her garden, cooking, watching baseball on television, reading her Bible and being involved at her congregation.
Daughter Rebecca wrote about time spent with her mother that it was a blessing that she hopes other daughters have "to share real time with a mom ... whose life is a gift that gives meaning to the word compassion, mercy, courtesy and kindness, good taste and elegance."
Akin died Jan. 22 as a result of injuries sustained in an automobile accident.
For information on endowing a scholarship, visit
www.giftplanning.lipscomb.edu
.