Lifelong educator establishes scholarship for teachers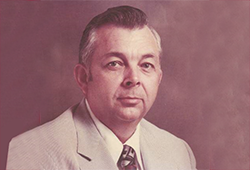 Fred Hatchett knew how difficult it can be to financially get through college.

Hatchett, a graduate of Cohn High School in Nashville, entered Peabody College for Teachers in 1947 with no support from his parents and only a small scholarship from Cohn High Men's Club. Those difficult years working and studying to earn a degree were probably what went through his mind as he made arrangements to leave a portion of his estate to Lipscomb University.

He also knew the importance of an education. Hatchett, who passed away in June, began a lifelong career with the Davidson County school system in the 1950s and eventually served as principal of his alma mater Cohn High. The West Nashville native began his career as a biology teacher at Hillsboro High School and concluded it in 1990 as coordinator of vocational education for the Nashville school system.

Even in his 80s, Hatchett would receive Christmas cards and notes from his former students. After his death, Hatchett's sister-in-law Amelia Hatchett received several letters from former students describing what an influence he was in their lives.

"His parents were not wealthy. He had a hard time putting himself through school," said Amelia Hatchett. "His mother said he had one suit that he wore all the way through college. So he recognized how hard it was."

Hatchett also served in the Air Force during the Korean War in air traffic control. After his discharge from the Air Force, he entered the agricultural education program at the University of Tennessee. However, funds became tight again and he took his first teaching job at Hillsboro to make end meet. He earned an M.A. and a certificate in school administration from Peabody while actively teaching, a situation many of today's teachers also experience.

Unmarried and without children, Hatchett had no strong connection to Lipscomb University, yet he chose the institution to benefit from his estate, a scenario that occurs more often than one would suspect, said Paul Stovall, director of Lipscomb's Center for Estate and Gift Planning. A quarter of donors nationwide leave money to a charity in their wills without notifying the beneficiary, he said.

Three years ago, after getting to know some officials at Lipscomb, Hatchett chose to give $100,000 to endow a scholarship in education before his death, allowing him to personally know that students were benefitting from his gift during his lifetime, Stovall said.

"As a lifelong educator, it was particularly meaningful to him to know that Lipscomb students were immediately receiving the value of his gift," said Stovall. "There is not much more gratifying than knowing you are making a future possible for a young person, and the young people they will teach, during your own lifetime."