Larry and Florrye Grant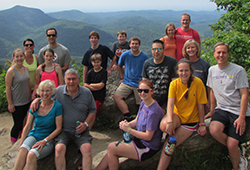 When Larry and Florrye Grant began thinking about their estate a few years ago and how best it could be used to impact the world for good, it didn't take them long to realize that Christian education was one of the best ways their financial legacy could be used to do the most good.
They knew from experience, having both attended then-David Lipscomb College in the 1960s. The university is where they met, and it's where three of their four children attended and two met their spouses. They decided the best thing they could do for future generations was to provide the same Biblical grounding and Christian world view they received during their time at Lipscomb.
"I know the backbone of this country is Christian education," said Larry Grant, who attended Lipscomb for two years and went on to dental school, graduating in 1967. "I think the hope of the nation is in places like David Lipscomb."
Thinking back to nights singing on the steps of Collins Auditorium with Brother Mack Wayne Craig and days spent in the offices and classrooms of mentors such as Ira North and Batsell Barrett Baxter, the Grants decided to develop their estate plan through an estate planning partner of Lipscomb University in aiding those who wish to leave a portion of their estate to worthy causes.
The service allowed them to work with a consultant who shared their values and understood their commitment to passing on the torch of Christianity through Lipscomb. The plan provides income for each of their children for 20 years, and after that time provides significant sums to Lipscomb and other charities.
"Every place we have lived, there has been someone connected to Lipscomb. It has given us family all over the U.S.," said Larry, who lived with his family in Minnesota, Wisconsin, Georgia and Tennessee during many years in the U.S. Air Force.
When just a child, Florrye and her family heard beloved Lipscomb administrator Willard Collins speak at her church in Savannah, Georgia. "On the way home, my parents said, 'That is where you are going to college,'" said Florrye. And she did, majoring in home economics and graduating in 1964.
"As a beginning freshman, I can remember that for me it was just overwhelming to get to Lipscomb," she said. "I had never worshipped in churches as big as they were in Nashville. It was wonderful; it was like a utopia for four years."
The Grants hope that the donation of a portion of their estate to Lipscomb will make the college experience a little less overwhelming and more valuable by helping to relieve the financial burden on those students who will benefit in the future.
"I would hope that for a future young person entering Lipscomb, that they would come to appreciate the value of Christian friendship and Christian mentors and pass that on when they graduate," said Florrye.
Such donations make it possible for more young people to attend Lipscomb, and thus learn "what the world is all about" from godly men, said Larry.
Three of the Grants children graduated from Lipscomb: John Grant ('91), married to Amy ('91); Allison Sutton ('93), married to Spencer ('95), and Tim Grant ('02).