Estes scholarship reflects appreciation for university experience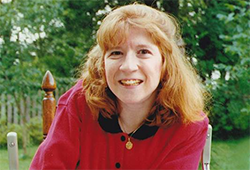 For those who have never met someone who has given everything she has, meet Kimberly Estes.
Estes not only has given sacrificially to establish the Judith Kimberly Lasley Estes Valedictorian Scholarship at Lipscomb University to help provide a Christian education to others, she has given every ounce of energy she has to encouraging others to pursue a college degree.
Her passion for helping others is driven by her experience as a Lipscomb University student from 1988 to 1992 in her pursuit of a Bachelor of Science degree in pre-professional psychology. She graduated in May 1992 with that degree in hand and as valedictorian of her class.
But Estes had a unique perspective about her time at Lipscomb that made her particularly interested in doing something to give back to the university she loved as a student.
Estes has cerebral palsy, which caused her to depend on assistance from others while in college. She said she had a great experience at Lipscomb and wanted to give back by establishing the scholarship fund, which she did in partnership with her parents, Wayne S. and Sarah L. Estes.
"I felt at peace at Lipscomb," said Estes. "I wanted to attend a Christian school with an outstanding academic program. And I found it at Lipscomb. I firmly believe that education provides the opportunity for many problems on earth not only to be improved, but also to be solved. The Judith Kimberly Lasley Estes Valedictorian Scholarship came about for that purpose—to give countless young people an opportunity to attend college."
"It is my hope and my prayer that the moral and intellectual preparation of students' experiences at Lipscomb will motivate them to work for positive change in every aspect of life."
Estes said that among those at Lipscomb who influenced her most were English faculty Steve Prewitt and Lin Garner; Paul Turner, professor of psychology; and Fletcher Srygley, then-professor of physics.
"Lipscomb prepares its students not only for immediate employment after graduation, but also for graduate and post-graduate degrees if they choose," said Estes, who attended graduate school at Vanderbilt University. "The merit of professional acumen remains significant within the workplace and beyond. Men and women who graduate from Lipscomb are equipped to accomplish much as professionals, citizens and parents, among many other roles in life. They can make a positive difference. And the roots for such good may very well begin for some students because this scholarship helped make their education at Lipscomb possible."
Estes's mother said she admires her daughter for overcoming challenges in life and wanting to make a difference in the lives of others.
"Kim is my hero," said Sarah Estes. "Having cerebral palsy had nothing to do with Kimberly's choice to attend college. She chose the very best university, both academically and spiritually, that she could find in the region. She chose to compete, and she did so with a little help from new friends. Kim has found she can make a difference wherever she is. This scholarship is just one way she has found to make a positive difference in the lives of others."
For information about establishing an endowed scholarship, contact Paul Stovall at
paul.stovall@lipscomb.edu
.