Respected Nashville Educator Strengthens Engineering Education with Gifts to Lipscomb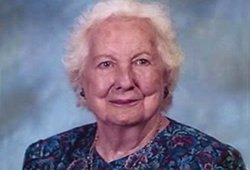 Mary Adair never sent a child through Lipscomb University, but her generosity and passion for education will be producing top-notch Lipscomb students for generations beyond her death.

Adair, a 1931 alumna of Lipscomb, married Robert Adair later in life and never had children of her own. But this long-time history teacher and librarian chose to help others' children through multiple gifts to Lipscomb during her lifetime and upon her death in February 2013.

She and her husband endowed funds for scholarships for preaching and business majors, and after her husband's death, she supported the Raymond B. Jones College of Engineering by funding a cutting-edge new classroom with the latest instructional technology.

Adair's interest in the engineering college came from her relationship with the husband of her niece Elizabeth Gwinn. Fort Gwinn is a mechanical engineering professor and associate dean of the engineering college at Lipscomb, and he encouraged Adair's interest in engineering by telling her many stories all about his students, co-workers and campus happenings.

"One of her nephews was an engineer, and she was always impressed with that because it's such a hard curriculum and takes such initiative for the student to achieve," said Elizabeth Gwinn. "She was very forward-thinking for a woman of her era. She always wanted to be part of something new."

She was very excited when the James D. Hughes Center, home of the College of Engineering was completed in the fall of 2010, and she saw her name on one of the new collaborative-classrooms, which integrate technology and portable furniture to encourage small group and classroom discussion.

"She was quite an educator," said Gwinn. "It was important to her to have education for herself, and it was important to her that she use some of her resources to help education continue in Nashville and specifically at Lipscomb."

Adair, a native Nashvillian, taught in the Goodlettsville schools (just north of Nashville) and was a long-time member of West End church of Christ and later of Granny White church of Christ, both in Nashville.

Gwinn said she is happy her beloved aunt was so generous, specifically to the engineering college. "I know that Lipscomb engineering builds students who go out into the world as good engineers and good scientists, but also scientists who know their lives will include giving through their engineering skills and helping others with those skills. The engineering school really instills those values."

"Engineers are so vital to our growth as a community, and it takes a lot of resources to prepare young people to be excellent engineers. Without the help of donors like Mary Adair, our students wouldn't be able to have real-world experiences like testing their ideas on the student-designed, all-terrain vehicle or developing of designs in the civil engineering lab," said Justin Myrick, dean of the Raymond B. Jones College of Engineering.

If you would like to add to the scholarships established by Mary and Robert, contact the Raymond B. Jones College of Engineering at 615-966-6223 or the Center for Estate and Gift Planning at Lipscomb University at 615-966-5251.