Remembering Lipscomb Legend Oliver Yates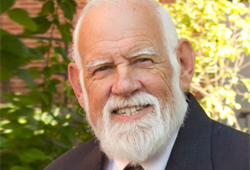 For more than half a century Oliver Yates was a fixture in Lipscomb University's department of biology and its allied sciences programs and was legendary for his cell biology classes.

For 54 years, Yates helped prepare generations of students for medical school and other careers in science. On Jan. 24, Yates died at the age of 79.

"Oliver taught thousands of students and made a huge impact on the lives of hundreds of health care professionals," said Kent Gallaher, professor of biology and chair of the department. "Along with Dr. (Paul) Langford, he laid the foundation for the successful pre-med program we enjoy today. I, for one, cannot imagine what my life would be like if his fingerprints weren't on it. And, I'm sure he's already working on a dichotomous key for all of the trees in heaven."

In 1952, Yates set foot on the campus as a freshman, and he called it home until his death. Yates joined the Lipscomb faculty in 1957. He served as chairman of the biology department from 1972 through 1993. Yates is known nationally for his research of paraganglioma, a tumor of neurological tissue, which produces tremendous negative effects on the nervous system upon removal.

In 1994, former Lipscomb board of trustees member and physician Thomas Duncan and his wife, Judith, funded the establishment of the Langford-Yates Distinguished Professorship to honor the service of Yates and his longtime colleague Paul Langford, chemistry professor for more than 40 years and former chair of the department.

In 2007, Lipscomb established the Langford Yates Summer Research Fellowship Program, which has provided undergraduate biology, chemistry and engineering students the ability to conduct scientific research during summer terms.

For decades, Yates and Langford worked together to prepare students for pre-med studies and became close friends.

"Chemistry and biology are closely related subjects. We both taught every pre-med student during our time at Lipscomb," said Langford. "We saw each other on a daily basis, and we talked about a lot of things. We were good friends."

Langford said Yates taught cell biology, a key course for all pre-med majors, at 8 a.m. every morning.

"He always taught the course early in the morning, and he would lock the door at 8 a.m. He wouldn't let you in if you arrived a minute after 8. He wanted to make sure the entire hour was filled with learning," Langford recalled. "I remember one student who got locked out and spent the class looking through the window in the door trying to copy down as many notes from the board as he could see. (Yates) was really a character."

"Through his enthusiasm for biology, he allowed his students to see the true beauty of God's creation while gaining a deep appreciation for its intricate details. His faith poured out into his lecture allowing us to gain an insight into his motivation for excellence as well as his love for biology," said Jon Lowrance, professor of biology.

Yates was also very involved in the Nashville community. He was honored by the Friends of Radnor Lake (FORL) with a 2012 Environmental Award for his contribution to conserving Tennessee state park Radnor Lake's resources.

According to the FORL, Yates received permission from the L&N Railroad, which previously owned Radnor Lake, to conduct biological research and educational programs for Lipscomb students in the early 1950s. In the mid-1950s, his work initiated a movement to save Radnor Lake from development, which eventually resulted in the park being designated as Tennessee's first natural area.

To contribute to these endowment funds or to learn more about establishing an endowment fund, call 615.966.5251 or e-mail paul.stovall@lipscomb.edu.