Wrights Endow Academy Scholarship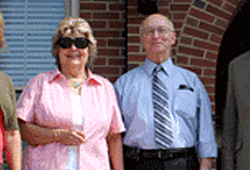 David Lipscomb Campus School (now Lipscomb Academy) Alumni, Doug and Jo-an Wright, have generously established an endowed scholarship for Academy students. The scholarship's purpose is to inspire students to attend the Acadmy despite financial need.

As, high school sweethearts, Doug and Jo-an look back on their time spent at Lipscomb. They recognize many structural differences, however feel the spirit and influence of the school is exactly the same.

Jo-an recalls "knowing how to appreciate the atmosphere (of the Acadmy)" because she didn't come to Lipscomb until the fifth grade. She says while other students complained about daily chapel, for her it was "just wonderful". She says it was "just a haven of peace and loving the Lord".

The Wrights see their time at the Academy as formative years in their lives. Jo-an, a retired nurse, holds her high school chemistry teacher, John Netterville, in high regard. Jo-an says "if he had not been so patient and kind, I probably would not have even gotten into nursing school". Joan graduated from the Academy in 1953 and went on to receive the Florence Nightingale Award from Nashville General Hospital School of Nursing in 1956. Mrs. Wright says many of the values she learned at the Academy were assets in nursing school.

Mr. Wright recalls his eighth grade teacher, Clarence Buffington, who "put him back on the right path" along with several other young men who "to this day, still owe where they are to him (Buffington)". Doug and a few of his classmates accompanied Buffington on a trip to Indiana, where he preached several times. Doug says that Buffington lead by example. Mr. Wright was even baptized on Lipscomb's Campus.

Through the years, the Wrights have stayed involved with Lipscomb in a myriad of ways. All three of their children attended the school while Doug and Joan served as co-presidents of the elementary and high school Parent-teacher organizations and co-chairs of the Mustang Market Place. Additionally, Jo-an served as a relief school nurse and Doug founded and coached the High School Rifle Team.

Jo-an wants the Academy?s students of today to "be grateful in everything," a value she learned at Lipscomb. She says when she learned to be grateful "life became much easier". Doug encourages students to "look around you and try realize what you have." He adds "I didn't realize what high school, middle school and grade school meant to me until I looked back and saw what kind of person I became".

The Wrights say they decided to make the donation for the scholarship when they looked back and realized they have always kept contact with Lipscomb and tried to support the school. They realized they were in a position to make one large donation because they "appreciate it so much and want to make a difference".